Journeys in France
A step back in time...
by Dianne
While holidaying in France this year, I spent a week of French immersion in the home of a French teacher in North Brittany.
With Suzanne, my teacher as our guide, my husband Viv and I spent a fascinating morning in the pretty, medieval town of Dinan, situated beside the river Rance which flows into sea at St Malo, 30 kilometres away.
After strolling through the weekly produce market, we entered the historic city centre. With its cobblestone streets, sturdy city walls and historic Breton houses adorned with colourful flowers, a visit to the oldest part of Dinan is a step back in time.
The Hôtel Kératy is an interesting building that began life in the neighbouring town of Lanvollon in 1559. It was dismantled and reconstructed in Dinan brick by brick in 1938, and is a prime example of a half-timbered house. It is now home to a museum dedicated to Celtic harps.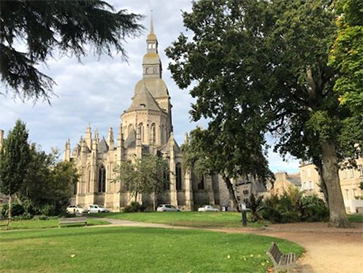 The Basilica Saint Saveur contains stunning stained glass windows and paintings. Construction was begun in the 11th century by a knight who returned from the crusades. It has been added to over the centuries, but the different styles of architecture blend together harmoniously.
There is so much to see and do here. Dinan was designated a Ville d'Art et d'Histoire in 1986. Due to its proximity to St Malo, Dinard and Mont St Michel, Dinan is an ideal place for travellers to stay for an extended visit. We look forward to returning soon to further explore this historic, picturesque part of France.